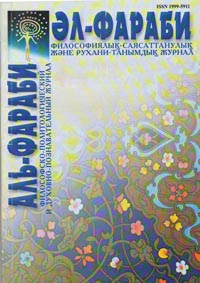 Journal of social and humanitarian studies
"Al Farabi"
covers contemporary and most disputed issues in the field of philosophy, political science, religious studies in the light of encyclopedic knowledge heritage of Al Farabi. Priority directions of the journal are: fundamental issues of philosophy, political science, religious studies; contemporary issues of dialogue and mutual interrelations of the East and West, Turkic and Kazakh philosophy.
Journal "Al Farabi" accepts manuscripts in Kazakh, Russian and English languages not published earlier and the manuscripts that are not reviewed for the publications in other journals. The volume of manuscript should not exceed 4300 words, including bibliography, references, notes and marks. Abstract should consist of 200 words.
The manuscripts are submitted to the journal's site and reviewed by the experts. Author's personal details, including the job affiliation along with clear email, position, and telephone numbers with the country codes of residence or cell phones are presented in separate files.
Authors of manuscript are responsible for the reliability and accuracy of the data, authenticity, observance of professional ethics principles, excluding plagiarism, compilation, dishonesty, falsification of scientific data and others.